Raytheon Intelligence & Space will lease the entire property within the Lakefront at Keystone office park.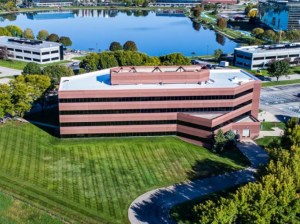 January 24, 2022 – Rubenstein Partners was able to fully lease its office building in Indianapolis, which is currently being marketed for sale. The property owner negotiated a seven-year lease with Raytheon Intelligence & Space, which will occupy all of Lakefront 6, a 86,965-square-foot office building that's part of a larger office development.
Raytheon, an aerospace and defense company, is planning to use the space for support work on the development of advanced sensors, cyber and software solutions. JLL's Tammy Faulk and John Robinson represented Rubenstein Partners, while Cushman & Wakefield's Mike Semler and Brendan O'Shaughnessy represented the tenant.
Located at 3939 Priority Way, the four-story Lakefront 6 was built in 1985 and offers 473 parking spaces. The office building is one of 15 located within Lakefront at Keystone, which totals more than 1 million square feet surrounding a 38-acre lake. The office park is home to a diverse mix of office tenants including insurance company eHealth, accounting firm Ducharme McMillen & Associates, and financial firm Thrivent Trust Co. Rubenstein Partners also said that two restaurants, Prodigy Burger Bar and Big Bear Biscuits, signed leases at the office park earlier this year.
Multimillion Dollar Renovations
While the office buildings were constructed much earlier, Rubenstein Partners and Strategic Capital Partners first took over ownership of Lakefront at Keystone in 2017. The new owners then pursued a multimillion-dollar capital improvement plan for the office park that introduced new indoor and outdoor amenities.
Now, Lakefront at Keystone includes a new indoor amenity center with a fitness center, tenant lounge, cafe, property management office and conference facilities. Outside, the new amenities include a floating barge, basketball court, workout circuit, bike path, food truck depot, seating areas, fire pits and interactive games.
Brian Simel, vice president at Rubenstein Partners, said in prepared remarks that the company's investments into the office campus have been a big part of recent success with leasing and tenant retention. While the company has plans for additional improvements, Lakefront 6 is also being marketed for sale by Newmark's Jim Postweiler.
Nearby in Indianapolis, Rubenstein Partners and Strategic Capital Partners have also spent millions in improvements for an eight-building office park called Parkwood Crossing. More recently, the company landed a 12-year lease with a digital investment company for its office complex in Stamford, Conn.